The past week or so we have tried some new and very yummy recipes. I thought I would share so you guys can try them, too!
Cajun Chicken Pasta
(this one was so good, I have made it twice in less than two weeks!)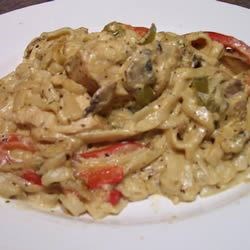 4 ounces linguine pasta
2 boneless, skinless chicken breast halves, sliced into thin strips
2 teaspoons Cajun seasoning
2 tablespoons butter
1 green bell pepper, chopped
1/2 red bell pepper, chopped
4 fresh mushrooms, sliced
1 green onion, minced
1 1/2 cups heavy cream
1/4 teaspoon dried basil
1/4 teaspoon lemon pepper
1/4 teaspoon salt
1/8 teaspoon garlic powder
1/8 teaspoon ground black pepper
2 tablespoons grated Parmesan cheese
Directions:
1. Bring a large pot of lightly salted water to a boil. Add linguine pasta, and cook for 8 to 10 minutes, or until al dente; drain.

2. Meanwhile, place chicken and Cajun seasoning in a zip-lock bag and toss to coat.

3. In a large skillet over medium heat, saute chicken in butter until no longer pink and juices run clear, about 5 to 7 minutes. Add green and red bell peppers, sliced mushrooms and green onions; cook for 2 to 3 minutes. Reduce heat, and stir in heavy cream. Season the sauce with basil, lemon pepper, salt, garlic powder and ground black pepper, and heat through.

4. In a large bowl, toss linguine with sauce. Sprinkle with grated Parmesan cheese.
Chocolate Mint Cookies (I have made these before. They are SO easy and SO yummy!)
2 cups semisweet chocolate chips
2 1/2 cups all-purpose flour
1 1/4 teaspoons baking soda
Directions:
1. In a large pan over low heat, cook butter, sugar and water until butter is melted. Add chocolate chips and stir until partially melted. Remove from heat and continue to stir until chocolate is completely melted. Pour into a large bowl and let stand 10 minutes to cool off slightly.
2. At high speed, beat in eggs, one at a time into chocolate mixture. Reduce speed to low and add dry ingredients, beating until blended. Chill dough about 1 hour.
3. Preheat oven to 350 degrees F (175 degrees C).

4. Roll dough into balls and place on ungreased cookie sheet about 2 inches apart. Bake 8-10 minutes. While cookies are baking unwrap mints and divide each in half. When cookies are brought out of the oven, put 1/2 mint on top of each cookie. Let the mint sit for up to 5 minutes until melted, then spread the mint on top of the cookie. Eat and enjoy!
Orange Creamsicle Pops
(I really like making homemade popsicles for Lea. The possibilities are endless!)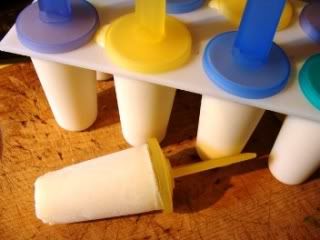 1 cup of milk (I used organic, whole milk)
1/4 teaspoon vanilla extract
Directions:
1. Blend first 4 ingredients together in a blender until well blended.
2. Add ice and blend more.
3. At this point, you can either drink immediately as a smoothie or pour into popsicle molds and freeze.
I hope you'll try these easy and delicious recipes. Enjoy!